Book 17/50:
Daniel Glattauer - Gut Gegen Nordwind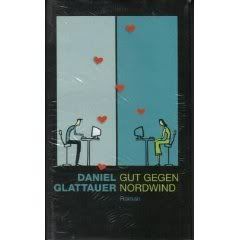 Through a bit of a coincidence, I ended up starting with the sequel
Alle Sieben Wellen
and only now read the first book. This one. I had been in need for a completely recently published book to translate for my BA thesis and so I took Alle Sieben Wellen, in fact at first I wasn't even aware of the fact that it was the sequel to anything.
When I realized, naturally I was curious about the beginning of the story. How the two protagonists meet, how their much spoken of Email-romance begun etc. In a few short words, Leo and Emmi start sending each other emails and fall in love - but, complication! Emmi is married.
To be honest I was just disappointed. I mean the sequel was ok. Entertaining at first read but really I am not too fond of the female character - even though I get why a male writer would write her like that. We must seem that way to men sometimes.
But this one - after everything that was hinted at in the sequel - that amazing email relation ship, I really didn't see it. It seemed constructed to m. Not real and not nearly as much chemistry as the author believes there is.
Or maybe I'm just spoiled by my and Adams internet love ;) Except that we actually met after 3 weeks because we realized we'd be completely insane not to. Maybe we insane for doing so in the end, who knows.
But I didn't actually like this book very much. Kind of weak. Sorry. And I'm too tired for a better review.
Pages: 219
3/5